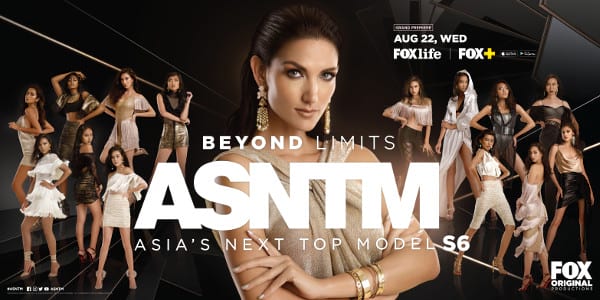 ---
Cycle 6 also known as Asia's Next Top Model 6: Beyond Limits is the sixth season of Asia's Next Top Model.
The season premiered on August 22, 2018 featuring 14 contestants. The filming of the season took place in Bangkok, Thailand.
Cindy Bishop and Yu Tsai both returned as judges for panel, while Monika Sta. Maria from Cycle 3, Shikin Gomez and Minh Tu Nguyen from Cycle 5 made appearances as model mentors throughout the season.
Background
Filming
The filming began on early 2018 and it was revealed that this season will be taking place in Bangkok, Thailand.
Prizes
The prize package for this season included a Subaru XV, a cover and fashion spread in Harper's Bazaar Thailand, a featured avatar in the new America's Next Top Model Mobile Game, and a modeling contract with Storm Model Management in London.
Twists
Model Mentors: For the first time in Top Model history, three alumni from the previous seasons were brought back to mentor the contestants. The contestants were then divided into three groups with one model mentor for each group. Monika Sta. Maria from Cycle 3 and Shikin Gomez and Minh Tú Nguyễn from Cycle 5 came back as this season's model mentor.
Challenge Elimination: One or more contestants were eliminated right after the weekly challenge even before the judging panel elimination.
Contestants
| | | | | | | | | |
| --- | --- | --- | --- | --- | --- | --- | --- | --- |
| Key: | Best Photo of the Week | Bottom Two of the Week | Quit | Disqualified | Eliminated | Winner | Runner-Up | Finalist |
Episodes
Best Photo of the Week
Voting History
Elimination Order
Order
Episodes
1
2
3
4
5
6
7
8
10
1
Beauty
Jachin
Mia
Adela
Dana
Beauty
Dana
2
Mia
Adela
Thanh Vy
Mia
Jachin
Dana
Beauty
3
Rubini
Pim
Pim
Beauty
Thanh Vy
Adela
Pim
4
Jachin
Dana
Adela
Pim
Adela
Mia
Adela
5
Dana

Thanh Vy

Rubini
Jachin
Pim
Pim
Mia
6
Iko
Mia
Han
Dana
Beauty
Than Vy
Thanh Vy
7
Adela
Han
Jachin
Thanh Vy
Mia
Jachin
8

Mia

Beauty
Beauty
Han
Han
9
Han
Rubini
Dana
Rubini
10
Pim
Jesslyn
Jesslyn
11
Jesslyn
Iko
12
Sharnie
13
Hody
Lena
14
Weekly Scoring
Template:ASNTM6 Weekly Scoring
Trivia
This season is the first season to be filmed in Bangkok, Thailand.
For the first time, there were three Thai contestants that appeared in one season.
Both Mia Sabathy and Adela-Mae Marshall have competed in other national versions of Top Model.
This is the fourth time Japan is back to compete last time was Cycle 3 in 2015
And Myanmar and Hong Kong returned after they last appeared in Cycle 4 in 2016
Cycle 6 is the third season where a contestant gets eliminated after they participate in the first challenge.
Asia's Next Top Model Cycles
Cycle
1 · 2 · 3 · 4 · 5 · 6 ·